700 M Crossover
An athletic silhouette, high-performance and robust materials, exclusive features .. As you can see, the design and equipment level of the new 700M Crossover table is uncompromising. It will take its marks with authority and distinction at home and offer you, without a doubt, a unique gaming experience. Its innovative and surprising twin wheels make it extremely agile and easy to move, and above all allow you to cross any obstacle safely. The care taken in every detail, combined with its powerful and assertive stencil, gives the 700M Crossover an extraordinary personality that will immediately bring you into a new dimension.
Details
Color of tops 157 807 Grey
Thickness table top 8 mm – Overspeed Surface
Height frame 60 mm
Leg type Arched
Leg dimensions 120 mm x 60 mm
Adjustable leg pad Ø 120 mm
Adjustable net Tension and Height
Locking system DSI
Locking points 16 points
European Standars EN 14468-1
Corner protection pads Yes
Coating MATTOP
Compact technology Yes
Balls storage Yes (+ balls dispenser)
Bat storage 4
Net Retractable
Wheel type SPECIAL Outdoor double wheels oversize
Wheel size 200 x 32 mm
Brakes 4
Approval FTTT Leisure
Class C
Table Weight 98 kg
Packaging Weight 111 kg
Guarantee 10 years
Features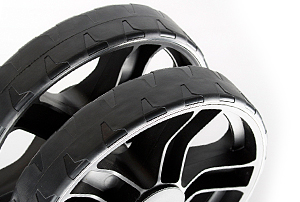 OVERSIZED DOUBLE WHEELS 
The use of twin wheels, wide (32mm) with the flattened composite bandage, considerably improves the mobility of the table, especially on very uneven ground.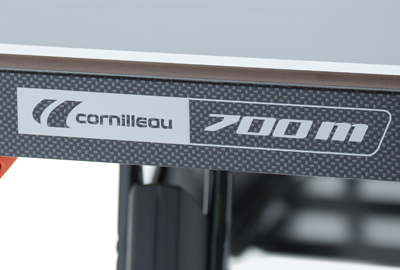 OVERPROTECTED structure This extremely robust aluminum-zinc-steel alloy structure is covered with an elegant "graphite" coating with integrated UV protection.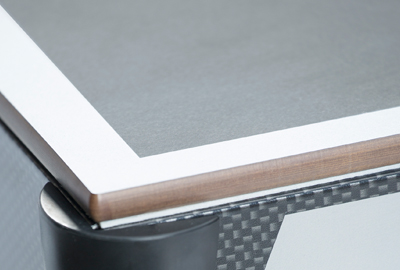 OVERSPEED surface The OVERSPEED surface is highly resistant to shocks and weather thanks to its 8mm thickness. The MAT TOP treatment decreases by 10 the reflections of the sun.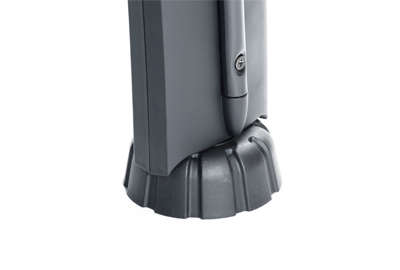 STABILITY Wide skids allow you to adjust the height of the feet, and thus ensure perfect flatness of the trays in case of uneven ground.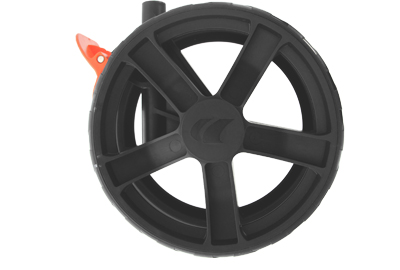 STORAGE Spaces have been specially designed on the side of the table for four rackets and eight balls.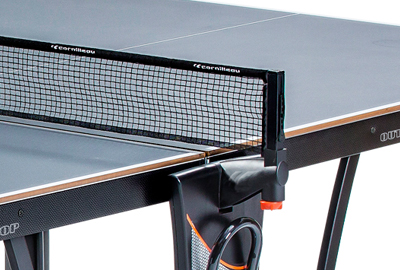 RETRACTABLE net The net automatically switches between the two panels when you close the table, which allows for even more optimal storage space.
ADJUSTABLE NET This double system allows you to have a net always perfectly adjusted in height and tension.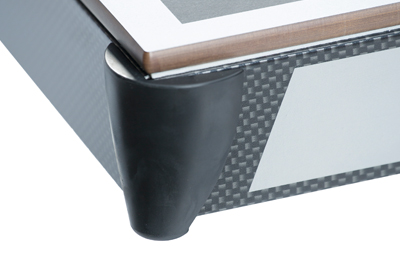 TABLE CORNERS Flexible protections on each corner of the table ensure maximum safety for your children.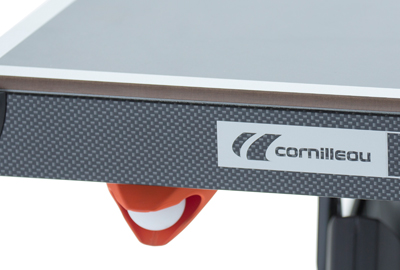 BALL DISPENSERS Placed next to the players, these dispensers are very practical because they always have the balls at hand.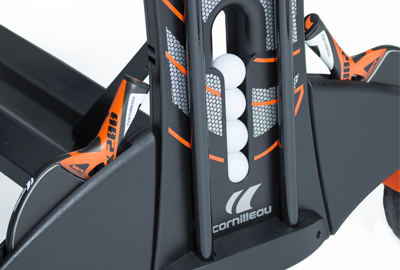 CROSSING HANDLE This carrying handle allows you to easily raise the table in the event of an obstacle (step, deck edge, door sill).